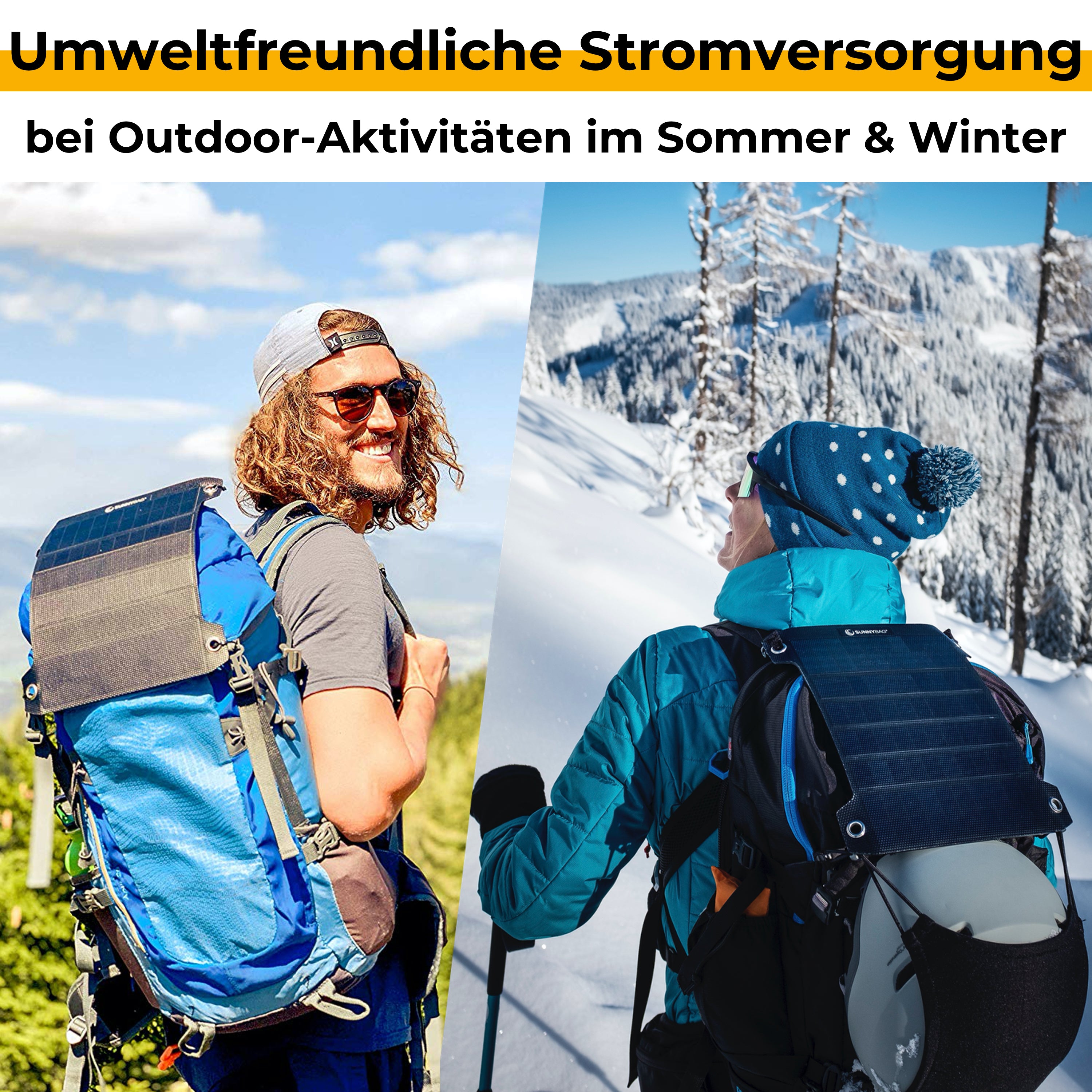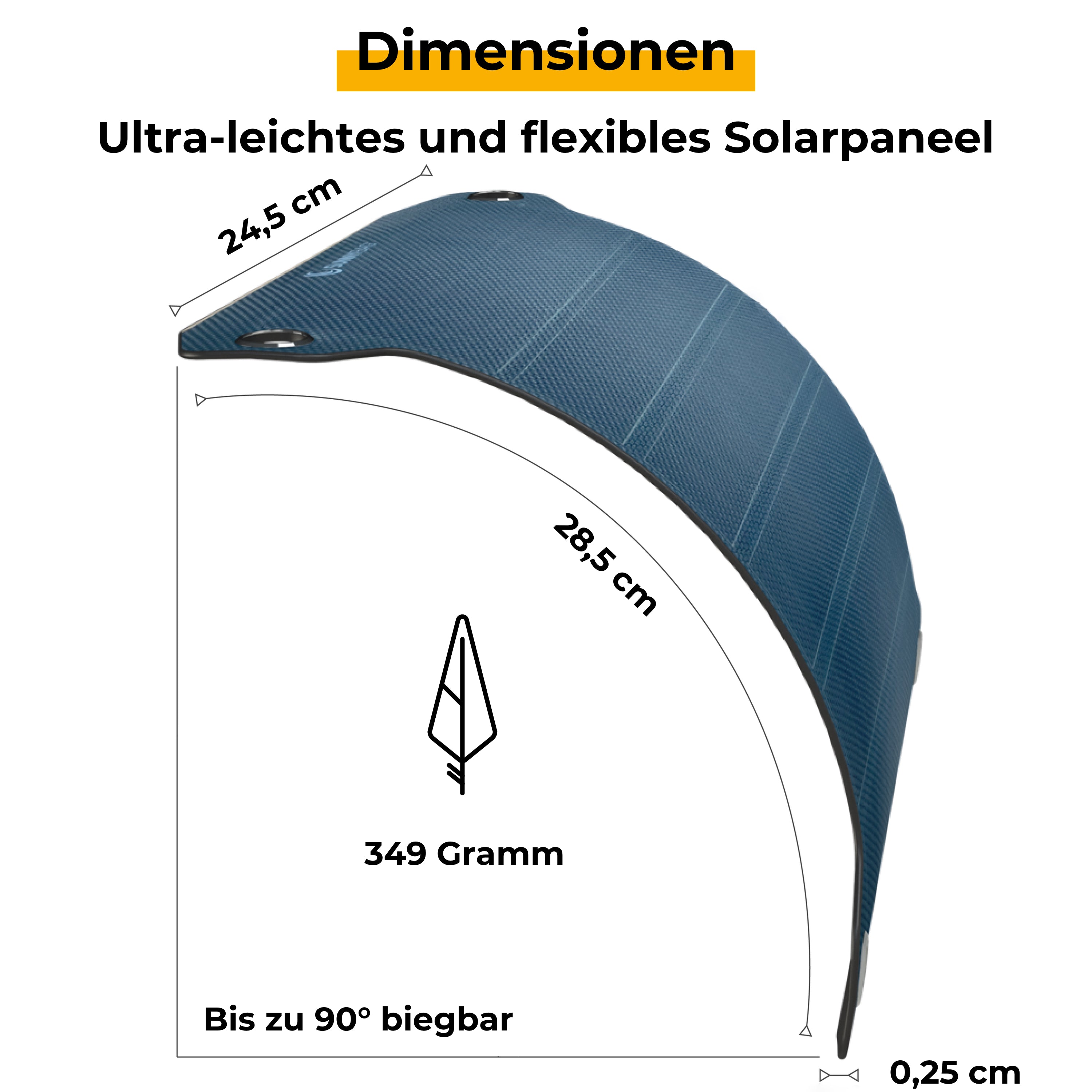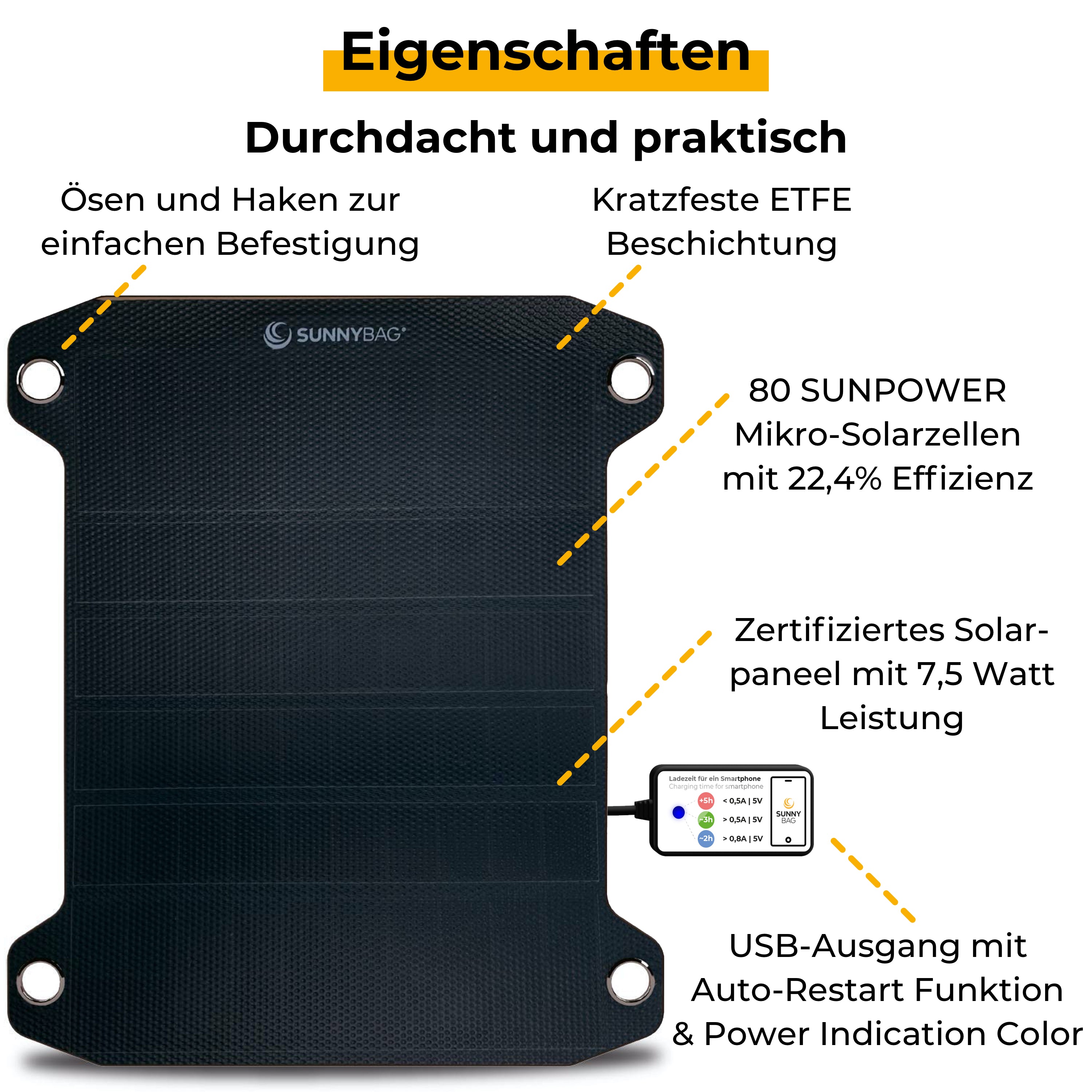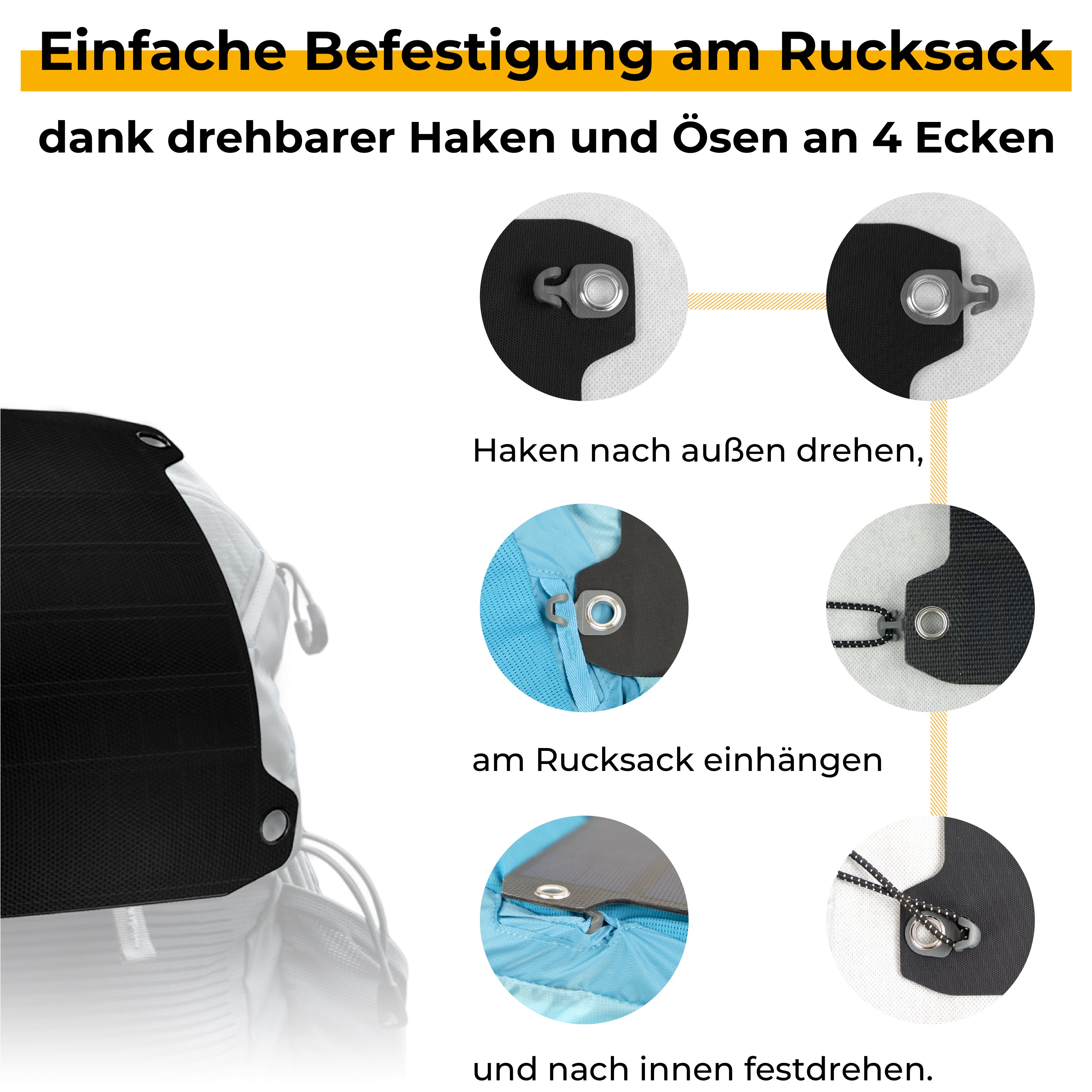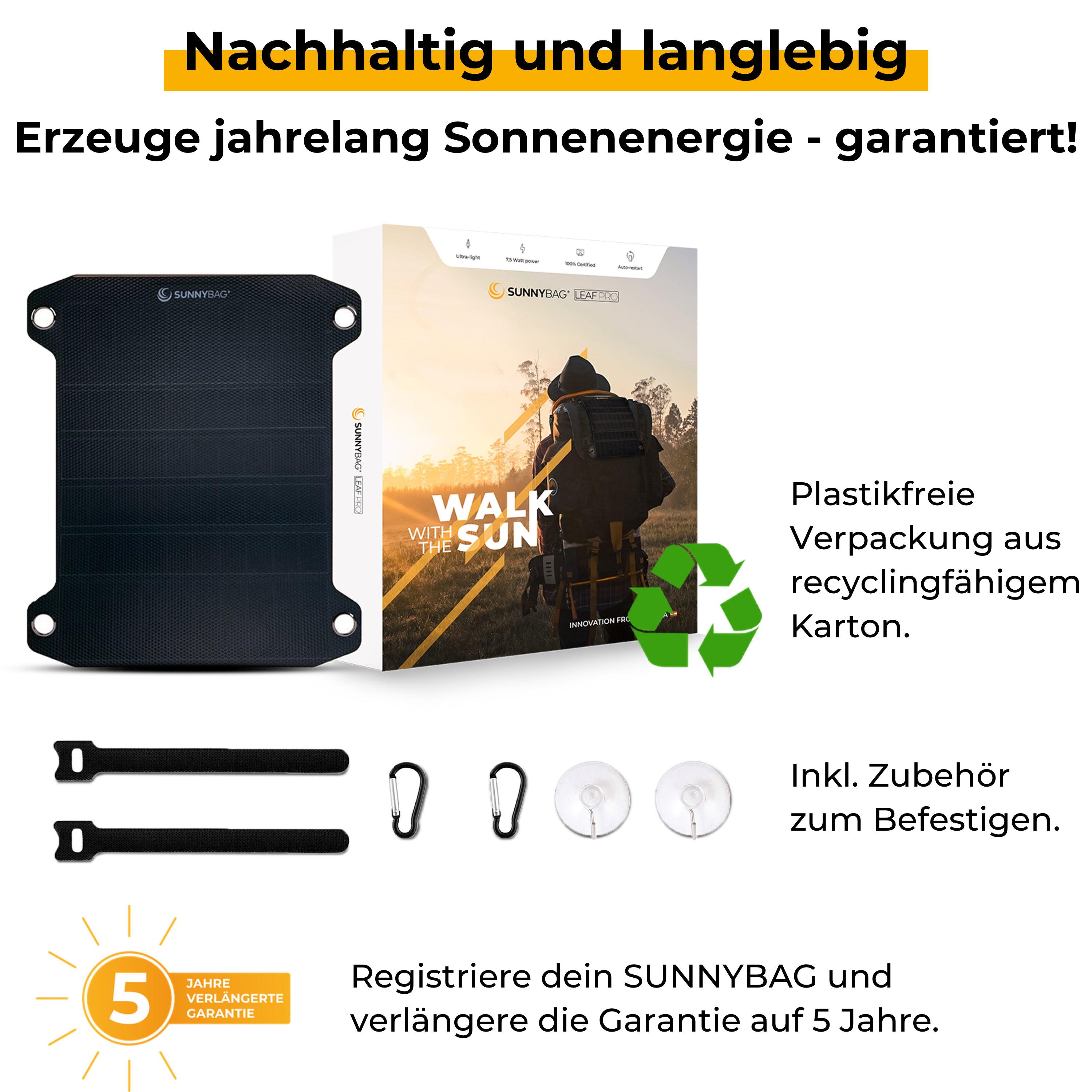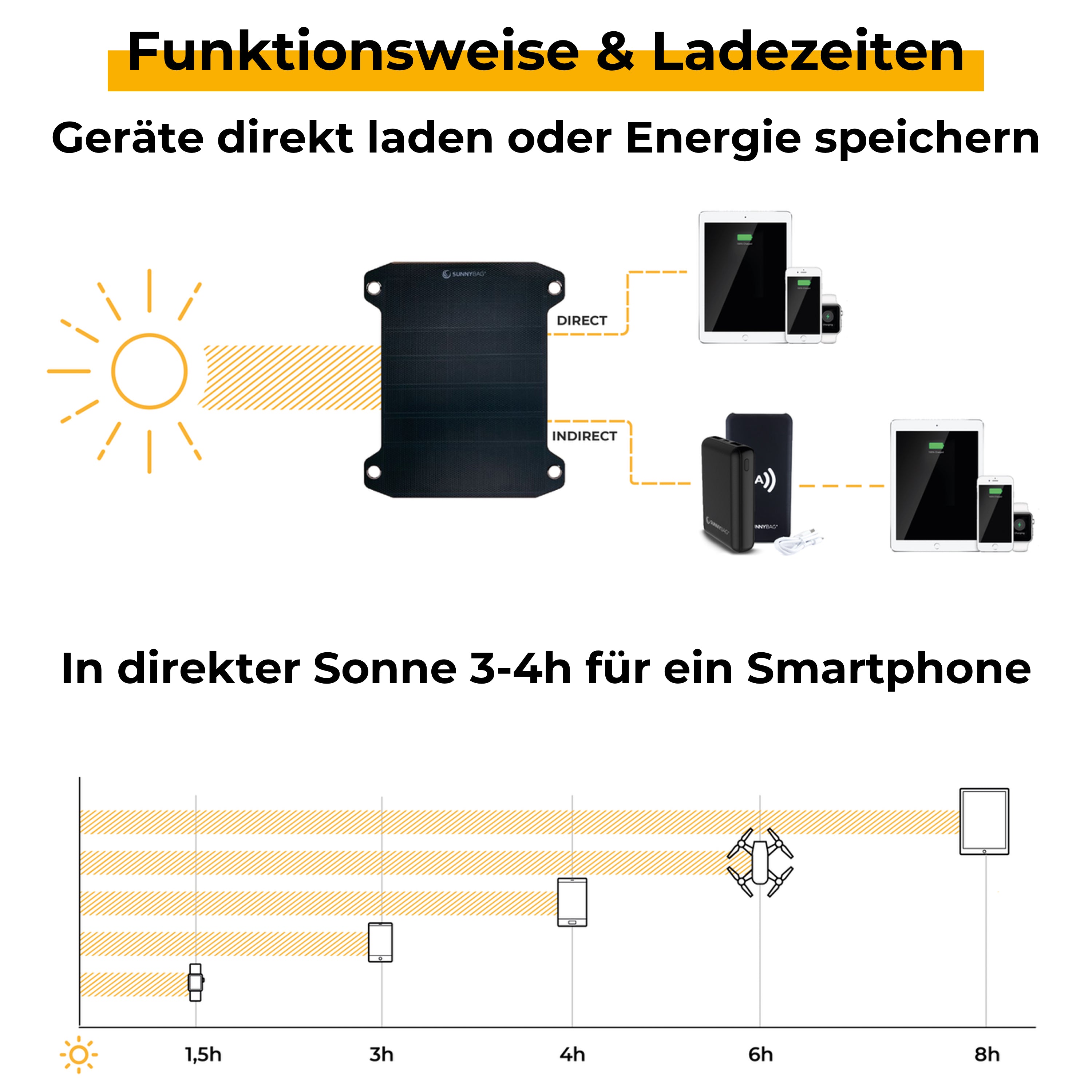 Sunnybag LEAF PRO
In stock
Versandfertig in 2-3 Tagen
30 Tage Rückgaberecht
Kostenlose Lieferung in DE/AT

Our solar panel Sunnybag LEAF PRO with over 7.5 Watts is the world's lightest flexible outdoor solar panel. This robust solar charging device is the perfect friend to bring along when you go hiking, climbing, touring, cycling, camping or on festivals or travels. It comes with extremely convenient fastening gear so it can be easily attached to any backpack, tent or other flat surfaces.
As soon as you are outdoors, your Sunnybag LEAF PRO will draw power from the sun to charge your devices with renewable energy.
7 Watts of power
Lightweight with only 349 g (0.8 lb)
Product dimensions: 28,5x24,5x0,25 cm (11x10x0.03 inch)
1 USB output (1.5 Ampere at 5 Volts)
100% certified solar cells at 22.4% efficiency
80 micro solar cells form a robust and shatterproof solar cell matrix
Thanks to this unique structure, the LEAF PRO is very flexible and can be easily attached to backpacks or other objects
Its ETFE coated surface is water, scratch and impact resistant
Comes with fastening systems - eyelets and swivel hooks in the corners, 2 carabiners, 2 velcro loops, 2 suction cups
Power Indication Color - the LED color tells you how much power is being generated at the moment
Auto-Restart feature supports charging of iOS devices
Successor to the 2018 ISPO AWARD winner Sunnybag LEAF+

Quality control
In contrast to conventional solar panels, the SUNPOWER cells installed at SUNNYBAG have a significantly higher efficiency - namely 22.4%. To guarantee this, we test each panel for performance before shipping. The test certificate is enclosed with every SUNNYBAG and shows not only the achieved performance but also the day and time of the test. This way you can be sure that your SUNNYBAG delivers what it promises and that your devices are reliably supplied with renewable energy.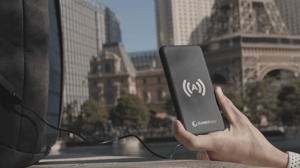 Optionally with POWERBANK
Our powerbanks are specially designed for charging with solar energy. They are the perfect temporary storage for the clean solar energy. The optimized power management (OPF technology) allows simultaneous charging and discharging. The powerbank stores the fluctuating solar energy efficiently and delivers it evenly to your smartphone. This is the most efficient way to use your SUNNYBAG.
Charging current display
The Power Indication Color at the USB output shows you how much power is currently being generated and how long the charging process for a smartphone takes under these conditions. Simply plug in your smartphone and read the charging time from the LED lights.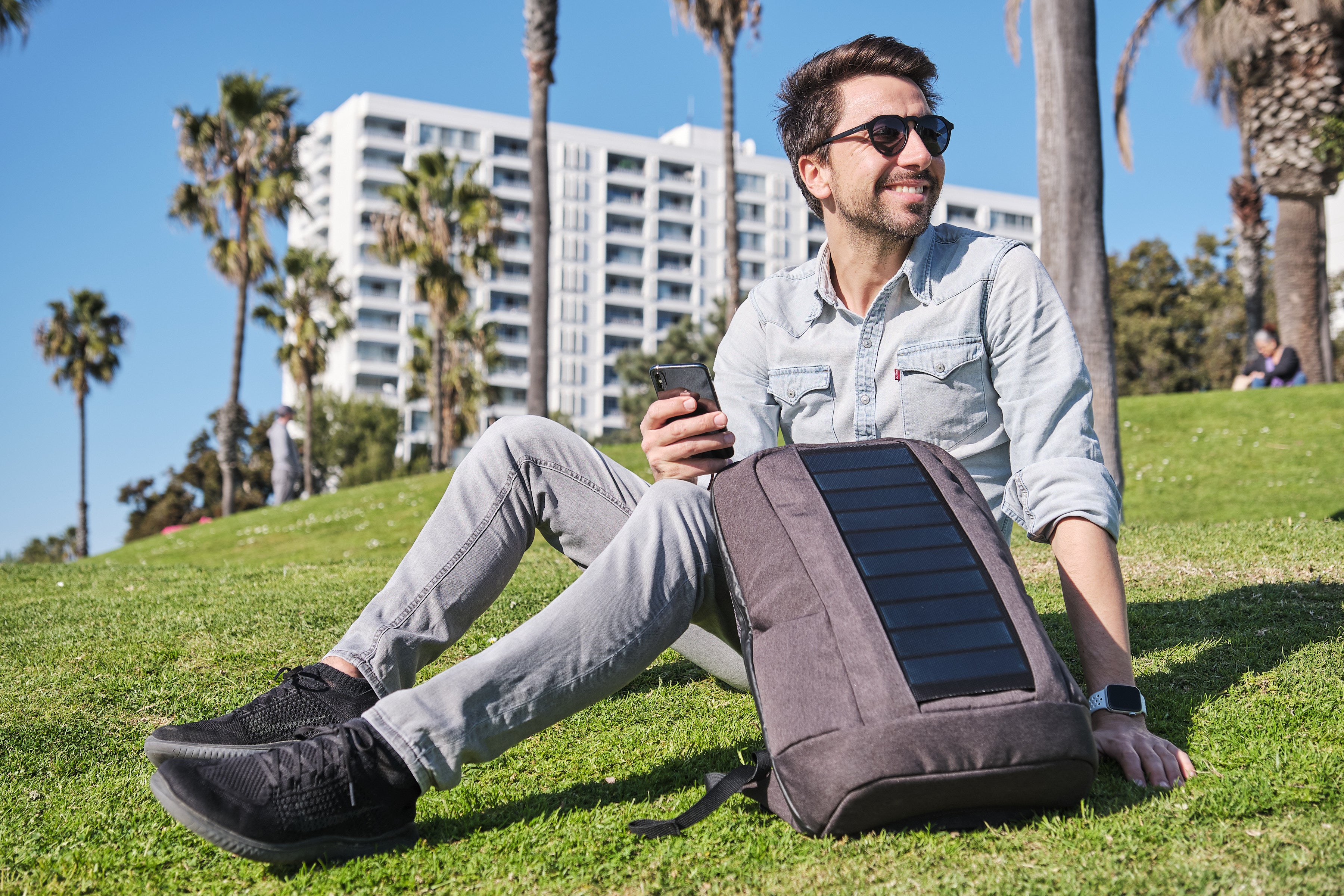 Who is SUNNYBAG?
We are a young and dynamic company from Austria that develops and distributes portable solar chargers. These charge your electronic devices on the go environmentally friendly with solar energy. Thus, each SUNNYBAG inspires to use renewable energy in everyday life.
Sustainably packed and delivered
We pack our solar panels and powerbanks plastic-free in recyclable boxes. We ship your packages Co2-neutral with the Austrian Post.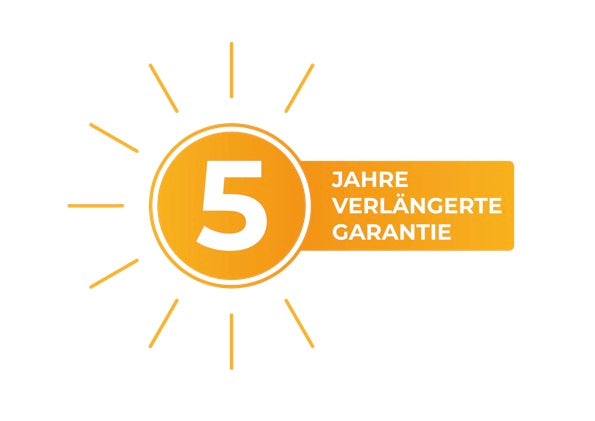 Extended warranty
The longer a solar panel is used, the more renewable energy it generates. Therefore, we offer 5 years full warranty if you register your SUNNYBAG.
Sunnybag LEAF PRO hält was es verspricht
  Das Sunnybag LEAF PRO macht einen stabilen und leicht zu reinigenden Eindruck. Einfache Handhabung und ausreichend Befestigungsmöglichkeiten. Die Aufladung meines Smartphones hat super geklappt, obwohl es teilweise bewölkt war. Kann das Produkt auf jeden Fall weiterempfehlen, auch wenn ich nicht weiß, wie lange es halten wird.
Top!
  Ich habe das SunnyBAG LEAF PRO kürzlich zugeschickt bekommen und bin mehr als begeistert! Habe das Panel Anfang Dezember auf meinem Balkon zum Laden meiner Powerbank ausprobiert und es funktioniert! Wenn es bewölkt ist, gibt es eine Ladeunterbrechung, die aber beim erneuten Sonnenschein aufgehoben wird. Das Panel ist sehr klein + leicht, robust und wasserfest. Der USB-Anschluss macht einen sehr stabilen Eindruck und ist universell mit allen erdenklichen Geräten kompatibel. Top!Ich habe mir das SunnyBAG LEAF PRO für meine Nepal-Reise im April bestellt, um autark zu sein und jederzeit meine technischen Geräte (Handy, Kamera) zu laden - werde es aber zukünftig sogar nutzen, um mein Handy im Alltag zu laden und damit auch einen Beitrag für die Umwelt zu leisten.Ich kann dieses Produkt wärmstens empfehlen!
Klein, leicht, robust - genau was ich will! :)
Habe bereits 2 ältere kleine Panele von anderen Herstellern. Das Leaf mini ist bei vergleichbarer Leistung unglaublich klein und leicht aber trotzdem robust! Genau was ich für unterwegs haben will :DMit USB-Messgerät Leistung und Strom getestet. Also mein Iphone (12mini) lädt bereits bei geringsten Strömen. Wenn ich das Ding nicht irgendwo fix in die Sonne legen kann und ordentlich Strom bekomme, würde ich aber trotzdem immer eine Powerbank laden. Und später Handy oder Kamera mit der Powerbank. Durch ein Video von Reini Rossmann auf diese Marke gestoßen. Laut ihm auch langfristig sehr robust. Dazu kann ich noch nix sagen. Selbst nur einmal benutzt und begeistert.
Funktioniert sehr gut
Ich habe das Solarpaneel für meine teilweise längeren Touren gekauft. Nit dazu habe ich die vom Hersteller empfohlene Powerbank gekauft.Beides zusammen funktioniert sehr gut. Die Powerbank wird auch bei bewölktem Himmel geladen. Auch wenn natürlich nicht so schnell. Klarer Pluspunkt gegenüber den meisten anderen Angeboten an Solarpaneelen ist die Größe und das Gewicht. Trotz der recht kleinen Fläche wird kraftvoll geladen. Außerdem sind durch die Ringe an den vier Ecken und die mitgelieferten verschiedenen Befestigungen, viele Möglichkeiten geboten, das Paneel unterschiedlich anzubringen.Ich nutzte es bisher für mehrtägige Wandertouren am Rucksack und bei einem Roadtrip, wenn ich mehrere Tage an einem Ort gestanden habe und nicht während der Fahrt laden konnte. Ich habe Smartphone und Uhr damit geladen.Ich bin bisher sehr zufrieden und hoffe, dass ich auch in der nächsten und übernächsten Reisesaison damit gut durch die Touren komme.
Perfektes Leistungs-Gewichtsverhältnis
Die 14 Watt Solarzellen haben mich absolut überrascht. Bei mäßigem Wetter (ein Mix aus Sonne und Wolken) reicht die Energie aus und eine 10000 mah Powerbank während der Fahrradfahrt voll zu laden. Das Panel platziere ich dabei über dem Gepäck auf dem hinteren Träger.Das geringe Gewicht spielt hier natürlich eine entscheidende Rolle.Danke für die super mobile Stromversorgung!
Perfect!
This is exactly what I needed! In full sun phone battery charges in no time. Just the thing for a longer camping trip. Great product. Thank you!
Funktioniert prima bin begeistert
Easy handling, perfekte Fixpunkte und tolle Optik. Auch bei Schatten wird Strom produziert.
Mach was es soll
Mein erster ein der Rucksacksolarzelle Sunbooster 21 ist so wie ich mir das vorgestellt habe. Sie mach einen soliden Eindruck. Ich konnte keine Mängel beim auspacken entdecken. Resultat des ersten Testes ist. Es macht was es soll. Bei direkter Sonneneinstrahlung arbeitet sie am besten. Durch wechselnde Lichtverhältnisses kommt es zu Schwankungen der Strom Erzeugung. Das ist ja ganz normal